"I'll promote and help sell your products through visual imagery using photography, video, high-definition 360º tours and panoramic imagery"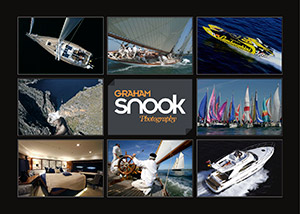 Take a look through the galleries and imagery on this site to see the quality of work that Graham produces. While you do, here are 10 things to remember:
1. He knows photography
Graham studied Photography for 4 years at Falmouth College of Arts, prior to becoming a darkroom/studio technician at Allsport/Getty Images. He has a wealth of technical knowledge to back up his creativity and experience.
2. He knows boats
Graham grew up around the sea and boats, he writes the new boat tests for Yachting Monthly Magazine. He's a keen sailor and owns a Sadler 32.
3. He knows magazines
Having worked on many titles in his 14 years at IPC Media, he knows the images art editors need and use. He's the Technical Editor for Yachting Monthly magazine and also writes for a number of magazines worldwide.
4. He knows standards
Graham will never submit an image he's not 100% happy with to "make up the numbers", it's his name, it's his reputation.
5. He knows safety
Graham will never endanger any boat or it's crew just to get "the shot".
6. He knows quality
It's disappointing to see poor quality images in magazines. Clients deserve more, if you are paying for photography you should get the best.
7. He knows the risks
Graham has £2,000,000 Public Liability insurance and £100,000 Professional Indemnity cover.
8. He knows service
Graham prides himself on not just giving the client what they want, but also giving them more options to sell their product.
9. He knows the environment
Whether it's blowing gale force 9 in Falmouth,  -10°C in Sweden or 40°C in Dubai, Graham has got the shots.
10. He knows devotion
From taking to a liferaft in the Bay of Biscay to being on a yacht as she is dismasted. Graham will do everything necessary to get the perfect photograph.
Photographing on the water is unique – It requires a blend of creativity, passion and technical ability. It's not like any other form of photography. Graham has been doing it for over 20 years;  he's as good on land too.
If you're looking for generic imagery, rather than a commission,
Please feel free to  download Graham's current PDF portfolio