"There's more to a picture than meets the eye, hey hey, my my" as Neil Young once wrote, and having been photographing for all but 4 years of my life it's true that a photograph can only capture so much. Many of the photographs I take hide what was happening around me, or previously to get that shot.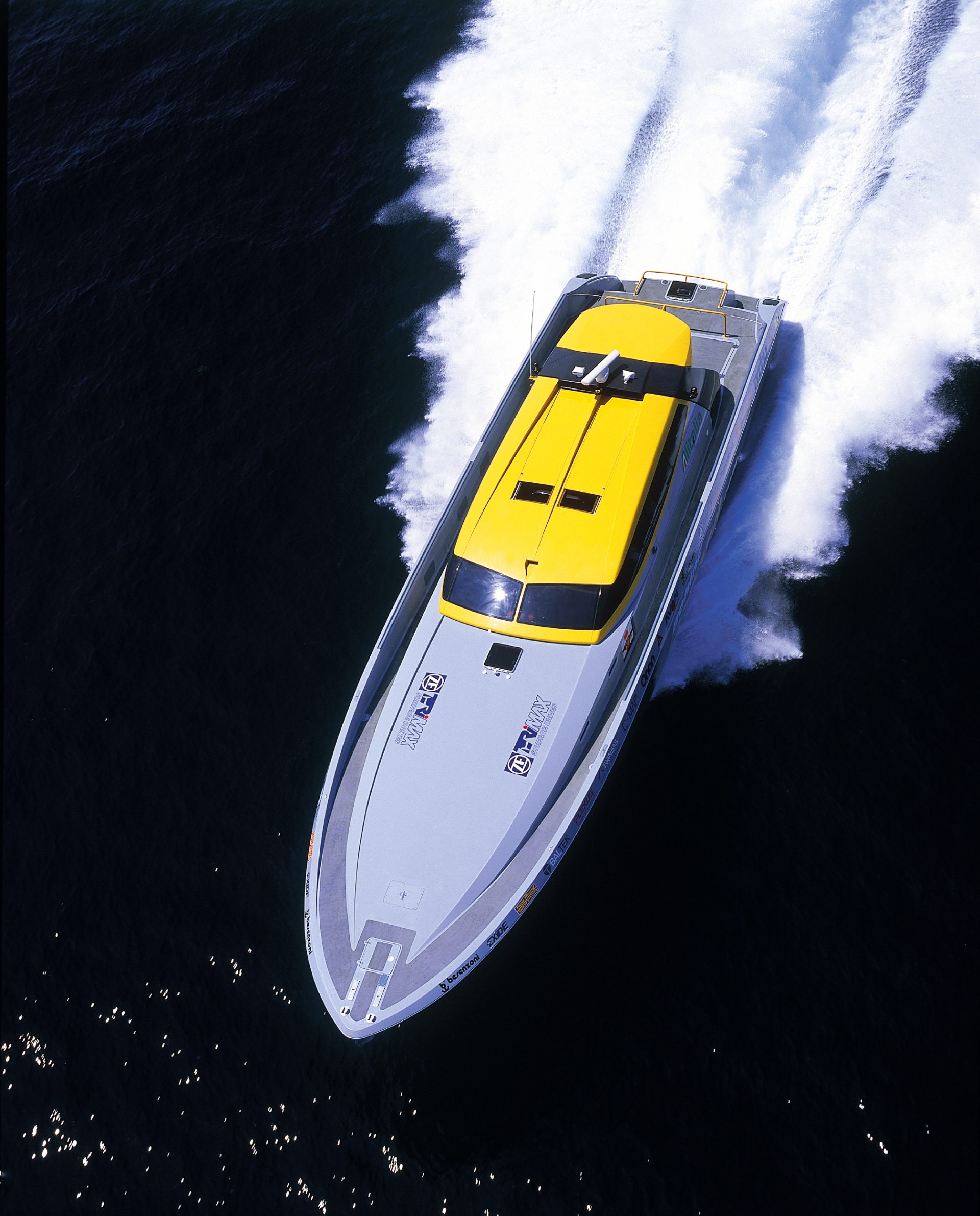 I was on location in Trieste, Italy, photographing Class 1 powerboats for Motorboats and Yachting when I got a call from the editor, Alan Harper. "Fabio Buzzi is launching a new boat at a marina near Venice. We don't know what size of boat it is yet, but it's built to break records so probably a RIB, can you get some photos of it on a trailer, or in the water, if you can?". Venice wasn't too far from Trieste,  so my flights back from Trieste were changed to Venice a few days later. I got a lift to Venice, then a taxi to the marina in search of Fabio and his new design. When I arrived there were no signs of either. No answer from signor Buzzi on his mobile, no sign of his boat.
Walking around the back of the marina there was a beaten-up grey van with Fabio Buzzi's parrot logo on the side. It was approaching lunchtime so I sat overlooking the marina, a call to the office revealed nothing more. Still no answer from signor Buzzi but something with a yellow coachroof was moving in the distance, coming toward the marina.
Fabio couldn't pronounce my name, so instead came up with a solution "I call you Mr Pictures"
The RIB I was expecting on a trailer turned out to be an 80ft carbon monster FB80 Record! Fabio, and the owner Hannes Bohinc wanted some photographs of Record! I contacted the office, and explained to Alan just what had turned up, 80ft, four 1,500hp engines on surface drives, carbon-fibre interior, an awesome-looking boat built for breaking records: Round Italy, Montecarlo to London, Round Britain to name but a few. I got the go-ahead to get split the cost of a helicopter with Hannic and Fabio in return for them getting photographs after they were printed in MBY.
Fabio couldn't pronounce my name, so instead came up with a solution "I call you Mr Pictures"
The shots were taken on a Pentax 6×7 camera, and during the shoot, the pilot was flying low enough to get the spray from the boat's rooster tail on the helicopter canopy. As a result of my photographs 4 pages were dropped from that issue to make room for a photo feature, and the next month she was on the cover.
When I next met Fabio in London after they had just broken the Montecarlo to London record, he said "Thank you for taking pretty pictures of my boat"
Keep in touch with regular updates with LinkedIn on Graham Snook Photography's company page
Or like Graham Snook Photography on Facebook